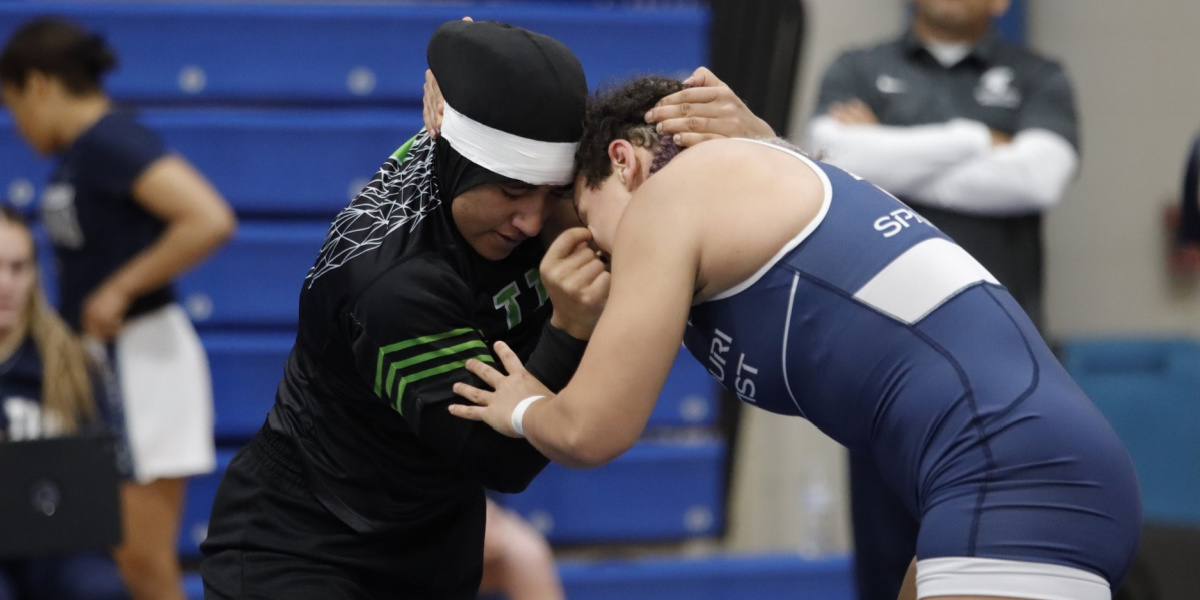 Photo: Life Athletics
The Open Mat NAIA Women's Freshman of the Year: Latifah McBryde
The Open Mat presents awards annually in three categories for each division of college wrestling at the conclusion of the season. Awards are presented for Wrestler of the Year, Freshman of the Year and Coach of the Year.
The Open Mat NAIA Women's Freshman of the Year: Latifah McBryde (Life)
Latifah McBryde's immediate success on the college wrestling scene should not have come as a surprise to many. McBryde compiled a strong wrestling resume on the national level before entering college. In 2022, McBryde finished runner-up in the Women's Nationals U20 division and fourth in the U23 division. Latifah, along with her sisters Jamilah and Zaynah came to Life University in 2022 and joined one of the nation's top women's wrestling programs. Latifah dominated her competition all season at 155 pounds, getting technical falls and falls in all of her matches during the regular season. She carried that momentum into the Mid-South Conference Tournament, where she outscored her opponents 31-0 with three technical falls. McBryde entered the 2023 NAIA Women's National Championships as the No. 1 seed. After getting three falls and a technical fall to reach the finals, McBryde faced Baker's Kaylynn Albrecht, a wrestler she pinned earlier in the season. McBryde controlled most of the championship match. She led 8-6 until Albrecht threw a headlock with one second remaining, which put McBryde on her back and gave Albrecht the 11-8 come-from-behind victory. McBryde was one of the three national finalists for Life and helped Life to a national runner-up finish as a team.