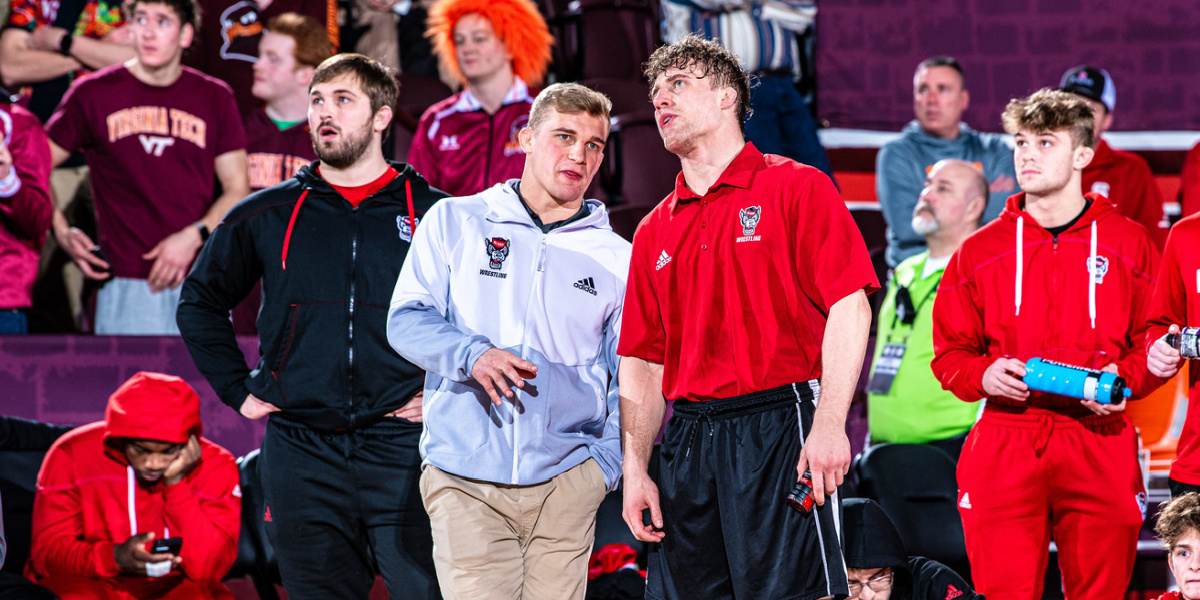 Photo: Sam Janicki
Hidlay named assistant coach at North Dakota State
By North Dakota State Sports Information
FARGO, N.D. -- North Dakota State Wrestling Head Coach Obenson Blanc announced the addition of Hayden Hidlay to the coaching staff Monday afternoon. Hidlay joins the staff as an assistant coach, coming to Fargo from North Carolina State.

HIdlay, a native of Lewistown, Pa., was a five-time All-American, four-time ACC Champion and one of the winningest wrestlers in NC State school history before joining the program as a student-athlete development coordinator for the 2022-23 season.

"I am excited to welcome Hayden to our Bison Wrestling coaching staff. Hayden is among the best young leaders I have been able to observe as a coach and I am thrilled to have our athletes around a mentor like Hayden," said Blanc. "I am looking for coaches who will commit to leading our Bison wrestlers in all aspects of life and Hayden's resume as an athlete, student, and character are in direct alignment with the goals of this program and institution."

Last season, he served as personal coach for Trent Hidlay, who earned a silver medal at the U23 World Championships in Pontevedra, Spain. He also worked closely with NC State wrestlers Ed Scott (157-pound All-American), Jackson Arrington (149-pound NCAA Qualifier) and Alex Faison (174-pound NCAA Qualifier) during the 2022-23 season.

"It is an honor to join the NDSU wrestling program and coach Blanc's staff," said Hidlay. "My experience as a student-athlete, being mentored by coach Blanc, showed me the character and intelligence that he possesses and I look forward to joining his leadership and help bring Bison wrestling to new heights. After meeting with returning team members and witnessing the cohesiveness and team culture, working alongside coach Blanc and with the student-athletes is an opportunity I want to be a part of."

Hidlay, who wrestled under Blanc for three seasons when he was an assistant at NC State, finished his career second in school history in winning percentage (110-11, .909), and his 110 wins are tied for third-most in NC State history. He was the first-ever five-time All-American in school history. He was an NCAA Finalist in 2018, along with third, fourth and fifth-place finishes and was a first-team selection in 2020 when NCAAs were canceled. Hayden is one of 10 wrestlers in ACC history to claim four individual titles. He was also named the 2020 ACC Wrestler of the Year and also the ACC Wrestling Scholar Athlete of the Year that same season.

"I want to thank my fiancée Emily Lingenfelter, my parents, my two brothers and my sister for supporting me throughout my wrestling and now coaching career," added Hidlay. "I also want to thank Matt Larsen, Jack Maughan, and the rest of the NDSU athletics administration for welcoming me to the Bison family with open arms. Emily and I are excited to join the wrestling program, NDSU Athletics family and Fargo community."

North Dakota State wrestling compiled an 11-3 dual record last season, including 6-2 in Big 12 duals. The Bison had two All-Americans with Jared Franek (157, 4th) and Michael Caliendo (165, 6th) along with six total NCAA qualifiers. Franek also claimed the programs third Big 12 title in the last four seasons.