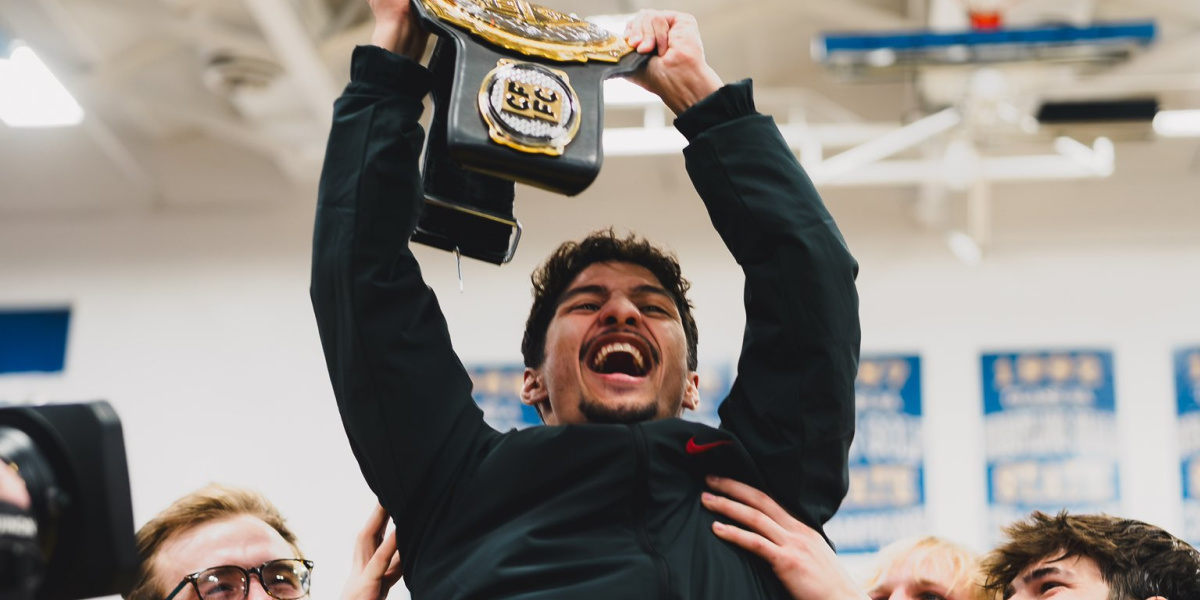 Photo: Iowa State Athletics
Iowa State dominates Wisconsin
HUMBOLDT, Iowa -- No. 10 Iowa State (3-0, 0-0 Big 12) made a statement against No. 18 Wisconsin (1-1, 0-0 Big Ten) in its first top-25 dual matchup of the season by winning, 42-0, Sunday afternoon inside Humboldt High School.
Iowa State dominated the dual from start to finish with three wrestlers -- Kysen Terukina, Casey Swiderski and David Carr -- defeating top-15 foes. ISU won the takedown battle, 27-2.
It was just the second shutout in the series between Iowa State and Wisconsin, with the last being a 52-0 Cyclone win in 1922.
The dual's featured bout came at 165 pounds where No. 2 David Carr took on Wisconsin's No. 4 Dean Hamiti. Carr got in on a leg in the first period but Hamiti fended off the attack for nearly a minute before nearly getting a takedown himself. After review, it was ruled no takedown and the wrestlers ended the opening frame scoreless.
Carr escaped to begin the second and nearly earned a takedown in the period but Hamiti's length once again proved problematic for Carr and the Badger thwarted the effort. Carr pieced together a masterful third-period ride and finished with over a minute of riding time for a 2-0 decision.
At 125 pounds, No. 17 Terukina started hot with two first period takedowns and led No. 5 Eric Barnett, 6-1, after three minutes. Terukina added two more takedowns in the final period to complete the upset by major decision, 14-3. The Hawaii native was named UFC Fight Pass Most Outstanding Wrestler for his performance.
No. 18 Evan Frost took on Nicolar Rivera at 133 pounds and secured a 12-6 decision. Frost had two takedowns and a pair of reversals, as well as two minutes of riding time, in the win.
At 141 pounds, Anthony Echemendia rolled to a 21-6 tech fall over Felix Lettini in 4:15. The Cyclone had seven takedowns in the match, including four in the first period. It's Echemendia's third tech fall in as many matches this season.
A rematch from last season between Swiderski and No. 14 Joseph Zargo provided plenty of fireworks at 149 pounds. Swiderski secured a takedown at the end of the first period to lead 3-0 after three minutes. He added another takedown in the third to ice the victory with a 9-4 decision.
Cody Chittum used a takedown and cradle for a seven-point move in the second period to propel himself to a 15-2 major decision against Luke Mechler. ISU led 19-0 at the intermission.
After Carr's victory at 165 pounds, MJ Gaitan and Will Feldkamp secured back-to-back first-period falls at 174 and 184, respectively, to bring the gym to its feet. Gaitan countered a shot attempt from Luke Condon and put the Badger on his back for a pin in 2:25. Feldkamp, making his ISU debut, took only 1:39 to pin Shane Liegel.
At 197 pounds, Julien Broderson grinded out a 5-2 decision over Josh Otto thanks to a first-period takedown.
Yonger Bastida secured a first-period tech fall, 19-4, against Peter Christensen in 2:57. The Cuban snared five takedowns and capped the victory with four near fall points.
Today was a homecoming for head coach Kevin Dresser, who won two state titles at Humboldt High School in 1980 and 1981.
Iowa State is back in action Sunday against No. 3 Iowa in the Iowa Corn Cy-Hawk Series. Action gets under way at 2 p.m. on ESPN. Tickets are still available, here.
Results:
125: #17 Kysen Terukina (ISU) maj. dec. #6 Eric Barnett (WIS), 14-3
133: #18 Evan Frost (ISU) dec. Nicolar Rivera (WIS), 12-6
141: Anthony Echemendia (ISU) TF Felix Lettini (WIS), 21-6 (4:15)
149: Casey Swiderski (ISU) dec. #14 Joseph Zargo (WIS), 9-4
157: Cody Chittum (ISU) maj. dec. Luke Mechler (WIS), 19-0
165: #2 David Carr (ISU) dec. #4 Dean Hamiti (WIS), 2-0
174: #22 MJ Gaitan (ISU) WBF Luke Condon (WIS), 2:25
184: #5 Will Feldkamp (ISU) WBF Shane Liegel (WIS), 1:39
197: #25 Julien Broderson (ISU) dec. Josh Otto (WIS), 5-2
285: #7 Yonger Bastida (ISU) TF Peter Christensen (WIS), 19-4 (2:57)
Attendance: 1,563
Officials: Eric McGill, Leo Mercado